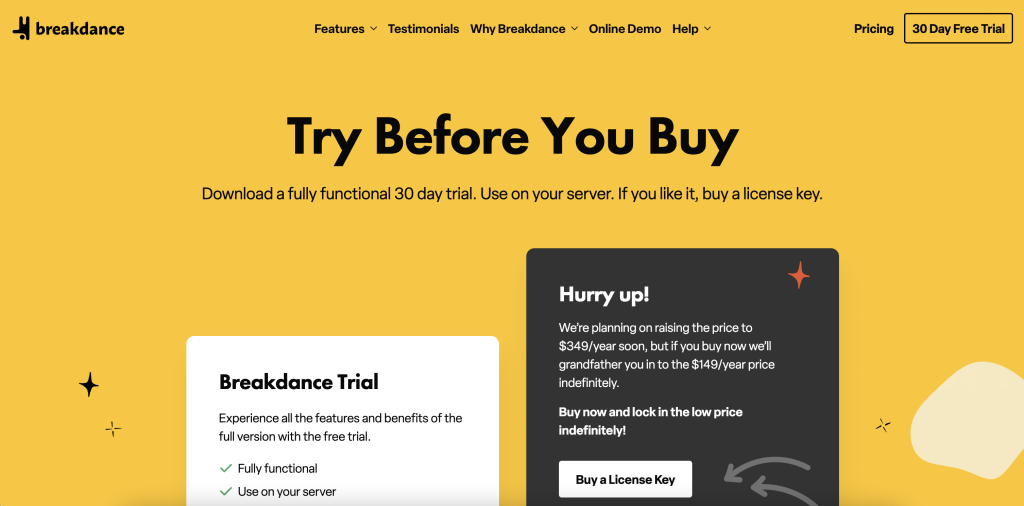 Are you looking for a way to quickly and easily create a website without coding?
Breakdance for WordPress is an advanced page-building tool designed to help users create stunning websites in no time.
It is a powerful, feature-rich website builder that brings WordPress front-end development to the forefront with ease of use, customization and ultimately building any website with ease. Its simple to use and enables the creation of stunning and complex website designs with a layout and mind and some practice.
Breakdance offers a comprehensive set of features and options, allowing for the rapid creation of stunning web pages. It is designed to provide an easy-to-use and intuitive experience for users of all levels of expertise but understanding basic CSS, scripting and HTML can help you set your designs apart.
With Breakdance users can quickly design and customize their web pages to meet their exact needs.
This blog post is intended to provide an overview of the features and benefits of Breakdance Page Builder and explain why it is an essential tool for web developers and designers alike. If you're looking for more in-depth information, check out our Breakdance Builder review on how we've used it these past 30 days.
KEY TAKEAWAYS
Breakdance offers an easy-to-use drag-and-drop page-building interface without the bloat other theme builders come with.
Breakdance is a brand-new website builder for WordPress allowing you to create any type of website. Breakdance comes with a FREE 30-day trial for you here.
Favorite features of Breakdance include the elements like mega menu builder, form builder, header builder, dynamic data (with things like ACF), loop builder, popup builder and so much more!
Breakdance is built by the Oxygen team called Soflyy. Whether that influences your decision or not likely depends on your involvement in the Oxygen community or have been an Oxygen user.
What Is Breakdance?
Built by the team at Soflyy, Breakdance was released to bridge the gap between the incredible Oxygen builder and some other common WordPress page builders like Elementor.
Let's be honest…page builders aren't new, they've been around for the better part of a decade, and for most agencies, they are becoming the go-to standard for creating websites.
Here at Sixo in order to serve our clients better we switched to a full-on page builder solution to improve turnaround time but also make it easier for our clients to manage their own websites.
Breakdance makes it easy for users to create pages and content with a drag-and-drop editor and a library of pre-built elements. With Breakdance, users can save time by quickly creating pages that look professional and unique. Depending on the complexity of the WordPress site you can have something up and running in under a day if you become efficient with it.
Breakdance also includes advanced features such as responsive design, custom media libraries, and more. Where it really shines is its woocommerce integration out of the box. Previous website builders would lean on the installation of a third-party plugin to create and customize the e-commerce solution. With website speed becoming extremely important for search optimization and user experience, less is more (meaning the fewer plugins you use the better for speed).
What surprised us was the lack of need for a WordPress theme. One of the options in this new Breakdance builder was one of the settings allowing you to completely disable the need for a theme.
Compared to Elementor, Breakdance doesn't come with a lot of extra bloat which is nice. Elementor is working hard to clean this up but already we've found how much faster this is.
Best of all, your designs are really only limited by your imagination and we've been able to accomplish a lot of the same designs (if not better) we've built with others. Users can create beautiful, customized pages quickly and easily, without ever having to write a single line of code.
How Does It Work?
Breakdance is designed with usability in mind. You can easily drag and drop elements onto your pages such as text blocks, images, videos, and more. You can also customize colors, fonts, sizes, and more to create the perfect look for your website. Plus, there are page templates available so you don't have to start from scratch.
Page builder plugins allow users to easily create and customize web pages using a drag-and-drop interface. They typically include a variety of pre-designed templates and elements that can be easily added to a page, such as images, text blocks, and buttons. Users can also customize the look and feel of their pages by changing the layout, colors, and font styles.
To get started with the Breakdance plugin, users simply need to install the plugin on their WordPress website and then activate it. As of writing, you can purchase the site builder for as low as $149 annually for unlimited sites but it does come with a FREE 30-day trial for you to get your feet wet. With the popularity of this new website builder, we fully expect the price to raise within the year.
Once installed, they can access Breakdance through the WordPress dashboard by clicking on the side menu and begin creating and customizing their pages. You can do one of two things…create templates or global blocks using Breakdance elements for things like the header and footer or simply go and edit a new page with the new WordPress page builder.
At first, it might seem confusing but after a few tutorials from the Breakdance team, you'll realize that it includes a user-friendly interface that allows users to easily drag and drop elements onto their page and customize them as needed. It has a comfortable feel similar to others on the market. Perhaps the one criticism we have is there are a few customizations that we would like to see like some hover effects via CSS. Despite that, we fully expect that these additions will be added over time to the Breakdance website builder as the speed of updates has been happening quite feverishly.
After you've created your first page you'll typically want to use the Breakdance editor to customize your Header and Footer. From there you can create customize your pages or use Breakdance to create templates to help speed up your design process.
By choosing to build your websites this way, businesses and individuals can quickly and easily create a website that is tailored to their needs and branding.
What Are The Benefits Of Using Breakdance?
Breakdance makes it easy for anyone—regardless of their technical know-how—to build a professional-looking website in minutes. Plus, it comes with tons of features like WooCommerce integration out of the box, mobile responsive designs and the ability to customize the look based on screen size.
With these features at your disposal, WordPress website creation becomes a lot easier and you can ensure that your website looks great no matter what device or browser it's viewed on.
For us, the best feature we've found with the new page builder is its speed of development. Over the past year dealing with other builder plugins for WordPress issues with the user interface and confusion has been normal. Thus far, Breakdance already blows other tools away in regard to speed.
Our favorite features and benefits of Breakdance include:
Editing a page of Breakdance is easy but quick. There are no loading issues or spinning wheels of death yet.
The post loop builder makes it easy to customize your grids and layouts for your blog posts similar to others on the market.
WooCommerce integration is easy and quick. No need for a separate plugin.
We no longer need to use Oxygen. We love it but speed is our biggest concern which is why we switched. The future of Oxygen may come into question but the Soflyy team has committed to continue development.
Out of the box, you'll get mobile-friendly designs that you can automatically adjust based on the layout and design of a page to look great on any device, whether it is a desktop computer, tablet, or smartphone. This is important in today's mobile-first world, as more and more people are accessing the web from their phones and tablets. By using Breakdance users can ensure that their website looks great and is easy to use on any device.
Many other page builders have this already but where they are failing is the endless about of code bloat it's providing. Speed and page speed insights are important to consider as Google takes that into consideration when ranking your website in its search engine.
How To Get Started With Breakdance?
Getting started with Breakdance is quick and easy.
First, you'll need a local (or web) server to install WordPress and then you'll want to get a copy of the Breakdance plugin (check below).
Once installed and activated, Breakdance will be available in the WordPress dashboard. You can start building your page by simply selecting the Breakdance Page Builder option from the WordPress admin menu.
From there, you'll be able to add sections, divs, columns, and content blocks to your page. You'll also be able to choose from a selection of pre-made page templates or create your own from scratch. You'll be able to customize the look and feel of your page using the Breakdance Page Builder's intuitive drag-and-drop editing tools, and easily save and share your pages with others.
Wrapping It Up, Should You Try Breakdance?
Having edited with Breakdance over the past few months I can tell you we are more than happy with the results we're seeing. Breakdance is a powerful newcomer to the market and truly believe it will only continue to pick up steam. Much like the Oxygen plugin for WordPress found a following a lot of users from the ecosystem are already making the switch.
We believe Breakdance is the perfect builder
for anyone looking to create a unique website without a lot of coding knowledge or technical experience. Its intuitive drag-and-drop interface makes it easy to customize pages visually while its suite of features ensures that your website looks great on any device or browser.
To make it look great you'll still need to understand how a website builder plugin works and understand CSS but having tested Breakdance we truly believe anyone who's used a WordPress website builder will fall in love is.
So if you're ready to take control of your online presence and start building today – why not fire up a WordPress installation and give the builder a try? I think you'll truly appreciate the Breakdance features and see why it will become your new page builder for WordPress.