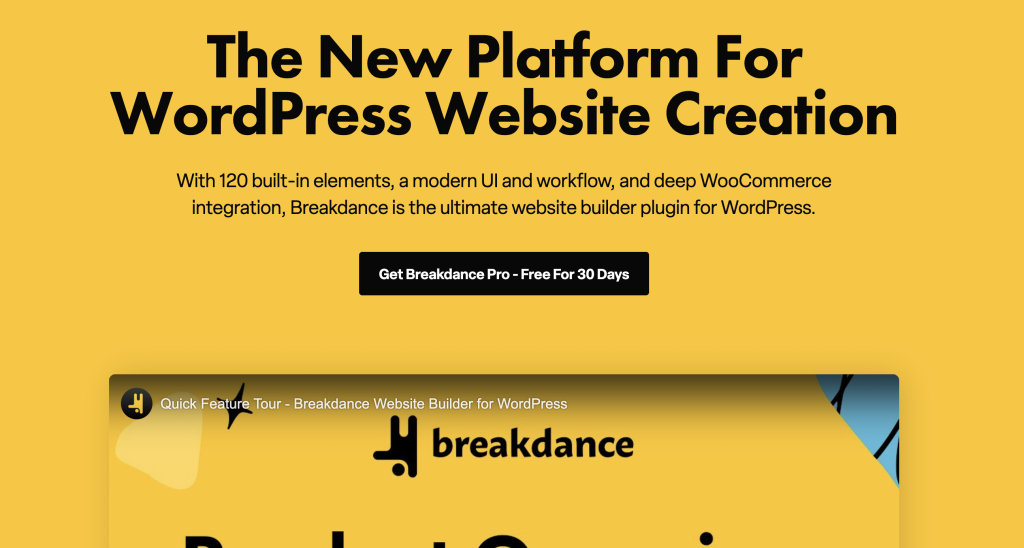 Breakdance Builder For WordPress is a new page builder which offers an attractive and affordable solution to give your WordPress sites a professional look.
It's an innovative page builder that allows users to quickly and easily create stunning, modern web pages without the need for any coding skills. Compared to other page builders, it stands out through its intuitive user interface, offering options such as WooCommerce integration, header and footer builder, form builder, mega menu builder, dynamic data, drag-and-drop elements, and live preview mode.
In addition, the pricing plans are highly competitive, giving you access to all plugin features for a fraction of the price offered by other plugins. Furthermore, with regular updates and customer support available, Breakdance Builder is certainly worth considering if you're looking for an easy-to-use page builder for your WordPress site as I've noticed it provides less bloat and all the same style capabilities you'd expect from other WordPress page builders like Elementor.
Having reviewed and built with it in our business over the past 30 days, Here's why you may want to consider it for your next web design project.
Limited Time Pricing Of $ 149 Per Year For Everything You Need To Build In 2022 and 2023
The limited-time pricing of $149 per year comes with everything you need to build from scratch a WordPress theme in 2022 and 2023. The limited-time pricing from Breakdance comes with the following:
Unlimited websites, which will allow you to create as many websites in WordPress as you want.
Every feature is enabled (like post loop builder) out of the box making it easy to create any type of website.
Breakdance also comes with a builder market and design library access opening up pre-made templates and sections to speed up development.
Having trouble building pages? Reach out to the reams premium support.
Lock in pricing as it's expected to reach $ 349 per year in the near future.
With this low price tag, it is easy to see why so many people are taking advantage of this opportunity and using it as a way to get their projects off the ground quickly and efficiently. This offer won't last forever, so be sure to take advantage of it before it's too late!
If that's not enough then keep reading…
Enjoy A 30 day Free trial With The WordPress Website Builder
Being new, Breakdance knows it needs to capture the attention of fans of Elementor and other page builder-focused front-end developers and agencies. Breakdance offers a fully functional 30 Day Free Trial to trial the site builder.
The trial limits nothing and you can simply install the plugin and use the Breakdance editor to build sites as much as you want within that window at no extra cost.
Full access to the Breakdance plugins intuitive drag-and-drop editor, popup builder, and more. It's rare you see a free trial for a WordPress plugin but I'm quite confident that Breakdance doesn't think you'll leave to another page builder plugin once you use it to create a website.
You'll also be able to choose from thousands of free templates and themes, so you can find the perfect design for your brand and have a website up and running in under a day without the need to install anything else, with the exception of a custom fields plugin.
There are no automated contracts or hidden fees – just a hassle-free way to get trial the new Breakdance Builder! Don't miss out – take advantage today as the offer may not last.
Breakdance Builder Comes With A 60 Day Money Back Guarantee
Breakdance comes with a 60-day money-back guarantee which makes it an amazing deal and a great way to try out this powerful drag-and-drop website builder.
Breakdance already offers a free trial but including a 60-day money-back guarantee will make the most skeptical buyers to consider giving the builder a try.
The Breakdance team is proud to offer our customers the opportunity to try our product risk-free for 60 days. With their 30-day free trial, you can test out all the features Breakdance Builder has to offer without any commitment. After the trial, you will be charged for the plan you have chosen.
If you're not satisfied before 60 days ask for your money back without any financial risk on your part. Try it now and see what Breakdance Builder can do for you.
What's Included With The Breakdance Website Builder Trial and Some Of The Features Of Breakdance
The Breakdance Trial comes with all the features to help you build a successful website that meets your goals. Included with the trial is the entire plugin, all the elements, WooCommerce extensions and basically all you'd get should you purchase. The trial allows you to build a fully functional website.
You will also have access to drag-and-drop builder element, templates and themes, custom content blocks, an extensive selection of third-party integrations and plugins, an online store builder, Google Analytics integration, and more.
With Breakdance's intuitive user interface design and feature-rich customization tools, you'll be able to quickly create a unique easy to build website that's tailored to fit your specific needs.
Plus, you can focus on driving traffic and increasing profits without worrying about coding or technical issues. With all these features available at no extra cost during your trial period, it's easy to see why Breakdance has become so popular as a web building platform.
Our Breakdance Builder pricing plan offers great value for aspiring website builders.
Breakdance Features Not included With The Plugin
All updates to the plugin itself will always be included with no additional charge. Breakdance is built with the user in mind but it's possible in the future that there may be some additional plugins that enhance the Breakdance plugin.
Things that have been considered for both Breakdance and Oxygen included things like
A cloud-based hosting offering
A social media marketing platform that integrates with Breakdance
A seperate but new WordPress plugin that you may use to create something other then websites.
A white label option should you find the need to create your own branding on this builder.
Seperate WooCommerce page builder plugins that aren't specific to Breakdance.
Should You Use Breakdance Or Stick With Oxygen Builder, A Pre-Made Template, or Other Builder Plugin?
When it comes to selecting a website builder, there's no one-size-fits-all solution that works for everyone. It's important to consider what your specific needs are and which option best suits those needs.
Having tested Breakdance the past 30 days we love this builder and where it's headed. With each release of the Breakdance plugin more features are being added to put it on the same level as other popular builders.
If you're looking for a powerful, customizable website builder then Breakdance is a great option for you. It provides users with a wide range of features and allows users to make changes quickly and easily. On the other hand, if you're looking for a quick and easy way to set up a basic website then using a pre-made template may be the most suitable choice. These options can help get your site up and running in no time, but they generally lack the flexibility of more advanced website building tools like Breakdance. Ultimately, it all comes down to what you need out of your website builder in order to make an informed decision.
In closing, Breakdance Builder provides a wide range of features and services to help you create a website that looks and functions the way you want. With an affordable price for unlimited sites and a free trial to choose from, you'll be able to find a package that fits your budget and meets your needs.
Whether you're a beginner or an experienced web designer, Breakdance Builder will have something to help you launch your site and make it stand out from the competition.